Dartford Labour leader calls on Tories to stop arguing.
Local Conservatives are not showing leadership on the issues facing the Dartford Crossing. With delays and traffic congestion on the Dartford Crossing getting worse, Dartford Labour have called on the Conservatives to stop the inaction and infighting that are getting in the way of a solution for local people.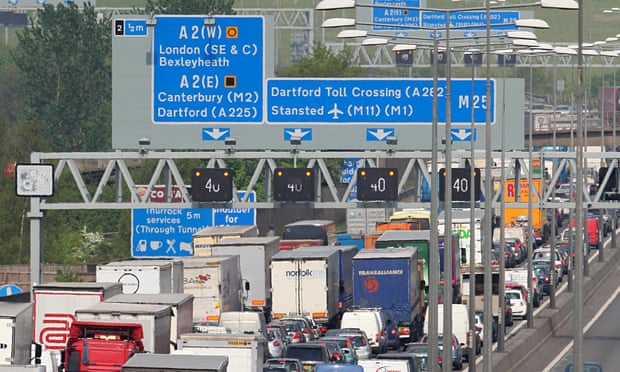 Leader of Dartford Labour, Councillor Jonathon Hawkes commented:
"Almost 2 ½ years after the start of the consultation on a new crossing, despite receiving nearly 6,000 responses from residents, motoring organisations and local businesses, the government has still not made a decision. While the current situation continues queues get longer, pollution gets worse and suppliers and traders find it harder to use the crossing to do business.
The delay and uncertainty from the Conservatives is damaging the local economy in both Dartford and Gravesend but the local MPs are doing nothing to stand up for residents and businesses to provide the certainty they need.  In fact, this week we saw the splits in the Conservative Party come to the surface with Conservative MP Adam Holloway and Tory leader in Gravesham John Cubitt urging the Transport Secretary to abandon the idea of building a new crossing east of Gravesend. Meanwhile, Dartford Conservative MP Gareth Johnson and council leader Jeremy Kite seem to prefer to sit on their hands instead of pressing the government to make a decision.
The Tories do not have coherent position on the crossing and their lack of leadership on this vital issue is letting local people down.
Let's be clear – We need a new Lower Thames Crossing to reduce the traffic congestion at Dartford and the government needs to make an urgent decision on where it will be. 
While the dithering on the location of the new crossing continues, local Conservatives are simply not getting to grips with increasing traffic and congestion at the existing crossing. I'm calling on the Conservatives in Dartford and Gravesham to stop arguing amongst themselves and start working together to resolve this issue.
The government need to end the uncertainty make a decision on the location of new Lower Thames Crossing before the end of the year
MPs and the Council need to work with Highways England to take action on the current delays.  They've overseen the botched introduction of Dart Charge and saying they've had a meeting is not good enough – local people need to see a credible plan of action that includes the views of motoring and freight industry groups, local businesses and residents. 
Labour are ready and willing to work with the government and the Council to help get Dartford moving again. But we need a decision on the new crossing and residents need the Conservatives to stop the dithering and arguments and focus on a solution for local people."
Image: The Guardian